Lubrication systems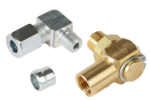 A lubrication system - a system that can be found in various designs and in
various areas. A lubrication system greases machine systems, single machines
or their bearing points and points of friction - to protect them from
friction and wastage and the costs that come with those things.

In systems of industrial machines (like processing cotton or paper but also
in the packaging or food industry) mostly central lubrication systems will
be found working with various lubricants.

For example those can be:

Oil lubrication systems:

Integrated oil lubrication systems (oil recirculation systems) offer a
continuous supply of a lubricant to all the connected points of friction.

Beyond that, the merits and advantages of such a lubrication system are, at
least in some variations, that they conserve the quality of the system's own
lubricating oil and by that increase its durability: a moderate operating
temperature is secured and the purity of the lubricating oil and its gas
release are guaranteed (a contamination by oxygen from the air for example
would make the oil season faster). With the ongoing technical development
the lubricating system gets more and more compact - keeping the performance
at the same level. Besides saving space, the new systems can actually run on
less lubricant oil - it takes less time to process the oil in the system
what also adds to its higher durability. Further positive effects mentioned
by the producers of lubricating systems are the low costs for buying and
depolluting the oil such as the low cost of both operation and energy.
Drives and brackets usually have a higher durability as well as they have to
be replaced less often. From an environmental point they need less oil and
preserve the resources.

Depending on the dimensions of the machine the lubricating system comes in
different sizes; the size of the lubricating system depends on the distance
the lubricant has to be transported, the number of lubrication points and
the amount of oil needed.

Lubrication systems using liquids:

Such systems are often used in filling companies (food or beverages for
example) to secure the free movement of the conveyor chains; possible
lubricants being used are, beyond others, mixtures of water and soap or
silicone. With a focus on workplace security these systems can cause a
problem when the lubricant escapes into the work area which can cause an
increase in slip danger.

Dry lubrication system:

This kind of lubrication system is usually used in the filling or food
industry. Instead of using a liquid as the lubricant they work with a dry
lubricant. The producers of such systems advertise them with advantages
compared to using a liquid lubrication system, advantages such as: less
expenses for water sewage, less risk of metal parts rusting, a higher
durability of chains because of less friction and avoiding water from
getting into bearing points or the conveyor chain - costs for repair and
damage to cardboard packaging are supposed to be reduced that way. The noise
produced by such a system is less as well as the costs for processing water
and its disposal do not incur at all; corrosion is reduced. Further possible
fields of usage include the clothing industry or the manufacturing of paper.

An advantage for fields such as medical technology is that the missing
liquids cannot create a medium for bacteria.

Possible dry lubricants might contain particles of PTEE, it is also called
Teflon and is resistant to other chemicals as well as dirt and liquids.

Technical variations of industrial lubrication:

Depending on the structure of the industrial plant adjusted lubrication
system are on offer,

beyond others those can be:

For example systems with a single-line principle of operation are specific
to smaller machines and systems - but they are also very usable for the area
of utility vehicles. This system uses a main line to transport the right
lubricant (for example greases of the NLGI-class 000, 00 or 0) to
distribution devices, elastic force in the relubricating devices is used to
transport the regulated amount of grease to the lubricating point.

The advantages are an uncomplicated way of maintenance and construction.

Systems with a two-line principle of operation are usually used when the
lubricating points are far apart - for example they can be found at roller
mills.

In big industrial systems the two-line principle of operation is the most
common lubrication system.

A progressive lubricating system uses so-called progressive plunger metering
devices.

The system can often be found with more recent machines and vehicles since
this technology of a lubricating system for lubricants up to the NLGI-class
2 has not been around for as long as the other systems. Still, the
progressive lubricating system has proved its worth and already become the
standard in many areas. With this system the lubricant is transported in a
main line to a progressive distributor - a single line has to supply several
lubricating points. Of course, several distributors, no matter whether they
are block feeders or sectional feeders, can be combined in that system to
supply machinery that contains up to hundreds of lubricating points.

Systems with a multi-line principle of operation contain several outlets at
their pump. This basic variation of a lubricating system uses individual
transport elements that can be controlled and dosed individually and bring
the lubricant directly to the bearing points.

Besides its industrial use lubrication systems can be found in many
different areas; they exist for every kind of vehicle, small machinery,
construction machines or farm machines but a lubrication system is also part
and partial for every wind power plant. Since a wind power plant is highly
exposed to wind there are high forces the plant has to deal with. But since
a personal maintenance is close to being impossible, a lubricating system is
used that has an automatic system for both maintenance and monitoring.



More Information:
Lubrication Systems